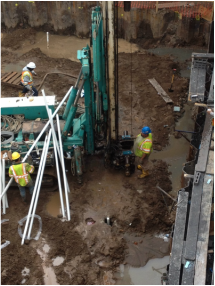 Earth Construction Services is a unique geotechnical contractor that offers
a wide range of design/build engineering and construction services. We specialize in working
in urban environments that present the most difficult and complex subsurface conditions.
Servicing all 5 boroughs and the NY Metro area, ECS has the right team of professionals and
engineers to offer cost effective solutions that work.

Service: We put our clients first. We strive to better understand our clients' needs
and deliver smart, cost-effective solutions that meet those needs.

Value: ECS takes on our clients' problems head on. We develop and implement
real-world solutions that are cost-effective, efficient and practical.

Excellence: ECS brings disciplined project management, excellent technical capability,
and superior safety and quality to all of our projects.






---